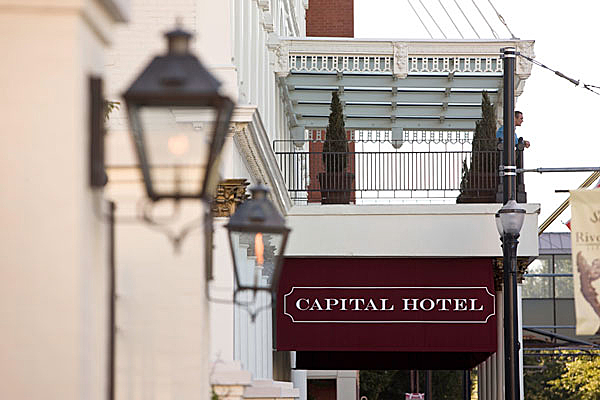 The ARELLO hotel rate has been extended to May 11, 2015!! Register today to get your hotel at this great rate for the Capitol Hotel - #20 on U.S. News and World Report's list of best hotels for 2015. It's going to be an informative event full of networking and educational opportunities!
Schedule subject to change.
Hotel Information
The Capitol Hotel
111 West Markham Street
Little Rock, AR 72201
(501) 374-7474
Reservations: (877) 637-0037
http://www.capitalhotel.com/site/
Cut off date for Room rate: EXTENDED until May 11, 2015
ARELLO® Room Rate: $169 Single/Double
Add 13% Room Tax
One of the country's most historically significant hotels, the Capital opened in 1870, with President U.S. Grant staying as a guest not long thereafter. The hotel opened with indoor plumbing and heating and introduced the country's first "magnetic annunciator" to call room service. Over the years, the Capital was regarded as the "sweet spot" for all political announcements and served as President Bill Clinton's local headquarters during his tenure as President.
Message to Attendees: ARELLO® has made every effort to secure the best possible group nightly room rate for you at this event. That rate results from a negotiated overall package of event needs such as sleeping rooms, meeting room space and other requirements. ARELLO® will incur costs if the association falls short of its minimum room block guarantee. Please help ARELLO® keep the costs of this event as low as possible by booking your housing needs at the designated host hotel and in the ARELLO® room block. Reserving outside the contracted room block may jeopardize ARELLO's ability to meet its contracted obligations and to keep registration fees to a minimum. ARELLO® appreciates your support and understanding of this important issue. If you experience difficulties when contacting the hotel, please advise ARELLO HQ. Thank you.
Area Information
In addition to the Rivermarket and the Clinton Library, the downtown offers an astonishing array of museums and historic buildings all within walking distance. Shopping options range from boutiques to fashion malls each nearby but in different parts of town. The concierge will be happy to describe each and arrange the hotel automobile. For the more energetic, sports activities include the "basics" such as golf and tennis or more exotic options such as hiking; bicycling, hunting or even kayaking. Depending upon seasonal availability, each can be easily coordinated for a half- or full-day excursion.
Transportation Information
Clinton National Airport
1 Airport Dr, Little Rock, AR 72202
Code: LIT
Phone: (501) 372-3439
15 minutes from the hotel
Additional Information
Complimentary wireless and high-speed internet connections are available throughout the hotel.
Cancellation Policy
CANCELLATIONS: All requests for refunds must be in writing. Cancellations received by midnight May 15, 2015 will receive a full refund. There is a $100.00 cancellation fee for cancellations received after May 15, 2015. Cancellations received after May 22, 2015 and before June 1, 2015 will receive a refund of 50% of registration fee. There is no refund for cancellations received after June 1, 2015. Refunds for cancellations due to an illness, injury, death or emergency will be considered on a case by case basis by the ARELLO® Chief Executive Officer.
Use this tab to download the latest event roster, which includes everyone registered for the event as of this moment.
You must be logged in to access the event rosters. You will be prompted to login when you click the links below.