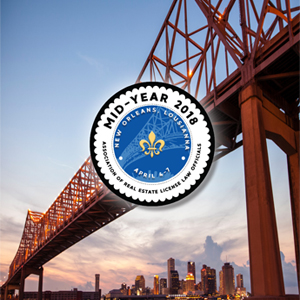 Join fellow real estate regulators at the Mid-Year Meeting to gather and develop
solutions that will ensure greater consumer protection for the citizens of your
jurisdiction.
DISTRICT 4 MEETING @ Mid-Year '18
If your jurisdiction is in District 4 (Alaska, Arizona, British Columbia, California, Hawaii, Idaho, Montana, Nevada, New Mexico, Oregon, Utah, Washington, and Wyoming) be sure to secure your spot for your meeting on Wednesday, April 4, 2018 from 9:00am-3:30. (Separate registration required)
Mid-Year Meeting Registration Desk Hours:
Wednesday- Morning: 7:30-11:30 Afternoon: 1:00-5:00
Thursday- Morning: 6:30-11:00 Afternoon:12:45-4:00
Friday- Morning: 8:00-11:30 Afternoon: 1:00-4:00
Saturday - Morning: 7:30-9:00 (Registration Desk will close prior to the Board of Directors Meeting at 9:00 a.m.)
PLEASE NOTE: Badges MUST be worn by all ARELLO® Mid-Year Meeting Attendees and guests for all meetings/events.
Schedule
Wednesday April 04
9:00 am–3:30 pm
District 4 Meeting (SEPARATE REGISTRATION REQUIRED)
District Vice President Judy Lowe will facilitate a meeting of members of District 4 jurisdictions to discuss issues of common interest.
2:00–4:00 pm
Districts 2 & 3 Meeting
District Vice Presidents Denise Johnson (D2) and Charla Slabotsky (D3) will hold a meeting with members to discuss the schedule for upcoming joint meetings. (Separate registration not required)
4:00–5:30 pm
New Member Orientation / First Time Attendees Reception
5:30–7:30 pm
Welcome Reception-Sponsored by PSI
Thursday April 05
7:00–8:15 am
Welcome Breakfast
8:30–10:00 am
Law & Regulation Committee Meeting
8:30–10:00 am
Exam Accreditation Committee Meeting (open)
10:00–10:15 am
BREAK-Sponsored by Pearson VUE
10:15–11:45 am
Fair Housing Committee Meeting
10:15–11:45 am
Affiliate Roundtable
10:15–11:45 am
Exam Accreditation Committee Meeting (closed)
11:45 am–1:15 pm
Lunch on Own
11:45 am–1:15 pm
Executive Committee Working Lunch
1:15–2:45 pm
Investigator/Auditor Resource Committee Meeting
1:15–2:45 pm
Education Certification Committee Meeting
1:15–2:45 pm
Commissioner Resource Committee Meeting
2:45–3:00 pm
BREAK-Sponsored by Pearson VUE
3:00–4:30 pm
Commissioner Roundtable
3:00–4:30 pm
Education Issues Roundtable
3:00–4:30 pm
Nominating Committee Meeting
3:00–4:30 pm
Administrator Roundtable
Friday April 06
6:30–7:30 am
Walk
Meet your fellow colleagues in the lobby for a leisurely walk.
8:30–10:00 am
Timeshare Committee Meeting
8:30–10:00 am
Membership Committee Meeting
8:30–10:00 am
Program Committee Meeting
10:00–10:15 am
BREAK-Sponsored by Pearson VUE
10:15 am–12:00 pm
General Session/Keynote
12:00–1:30 pm
Lunch on Own
12:00–1:30 pm
Foundation Working Lunch (CLOSED)
1:30–3:00 pm
IT/Communications Committee Meeting
1:30–3:00 pm
Governance Committee Meeting
1:30–3:00 pm
Finance Committee Meeting
3:00–3:15 pm
BREAK-Sponsored by Pearson VUE
3:15–5:00 pm
Real Estate Best Practices Roundtable
Notice: This session will be recorded and participants will be asked to sign a permissions form for this purpose
5:30–7:30 pm
Networking Reception-Co-Sponsored by Louisiana Real Estate Commission, Louisiana REALTORS, and RISC
Saturday April 07
8:00–8:45 am
Breakfast
9:00 am–12:00 pm
Board of Directors Meeting
Hotel Information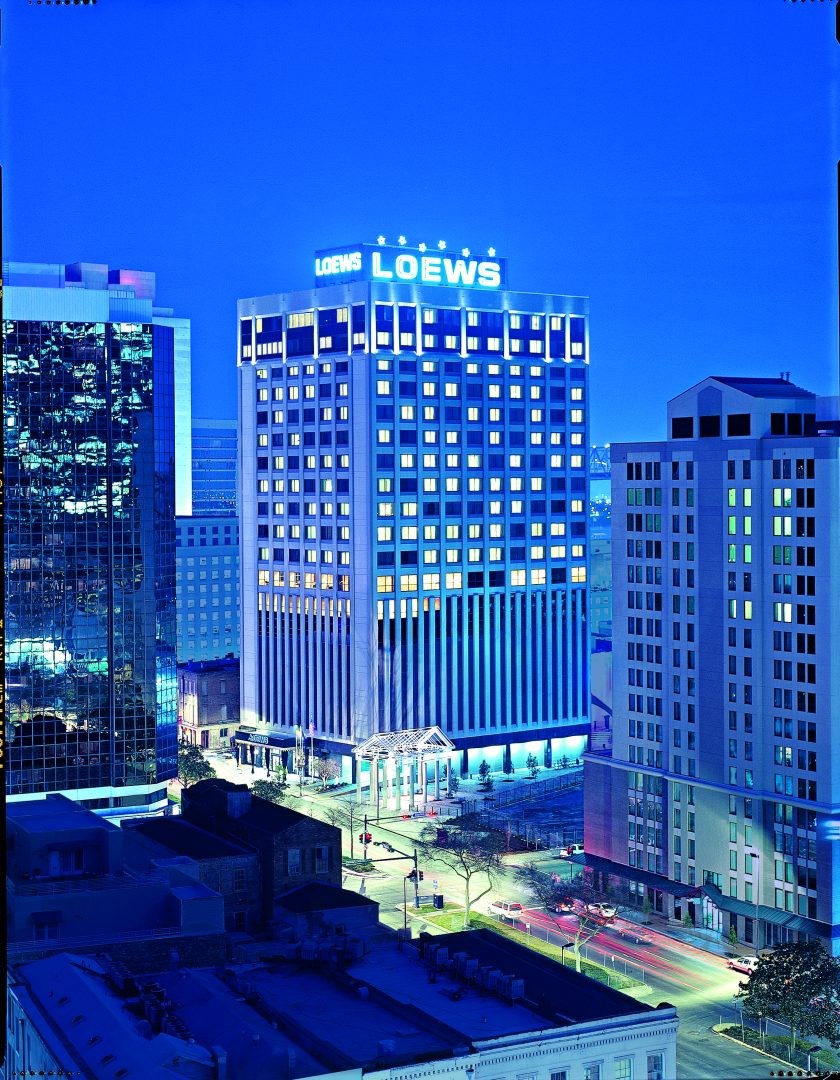 Loews New Orleans Hotel
300 Poydras Street
New Orleans, LA 70130
504-595-3300
https://www.loewshotels.com/new-orleans
Reservations: 866-211-6411. Online Reservations: CLICK HERE
ARELLO® Room Rate: $199 Single/Double
Add 13% Room Tax, $1 Occupancy Tax per room per night, Statutory Tourism Support Assessment of 1.75% per room per night. Check in: 4PM Check out: 12 PM
ARELLO ROOM BLOCK - SOLD OUT FOR SOME NIGHTS
The ARELLO Room Block is sold out for some nights of the Mid-Year Meeting. Please contact the Loews directly for current information on the room block as availability may change. If you are unable to stay at the Loews you may want to use a third-party website (like Orbitz or Expedia) which can provide real time availability and pricing.
Message to Attendees: ARELLO® has made every effort to secure the best possible group nightly room rate for you at this event. That rate results from a negotiated overall package of event needs such as sleeping rooms, meeting room space and other requirements. ARELLO® will incur costs if the association falls short of its minimum room block guarantee. Please help ARELLO® keep the costs of this event as low as possible by booking your housing needs at the designated host hotel and in the ARELLO® room block. Reserving outside the contracted room block may jeopardize ARELLO's ability to meet its contracted obligations and to keep registration fees to a minimum. ARELLO® appreciates your support and understanding of this important issue. If you experience difficulties when contacting the hotel, please advise ARELLO® HQ. Thank you.
Area Information
Attire Information
Entire Meeting is business casual.
Additional Information
Please Note: Badges MUST be worn by all ARELLO Mid-Year Meeting Attendees and guests for ALL meetings/events.
Cancellation Policy
CANCELLATIONS: All requests for refunds must be in writing and sent to ARELLO's Chief Executive Officer. Cancellations received on or before March 4, 2018 will receive a full refund. There is a $100.00 cancellation fee for cancellations received between March 5 and March 25, 2018. No refunds will be made for cancellations on or after March 26, 2018. Refunds for cancellations due to an illness, injury, death or emergency will be considered on a case by case basis by the ARELLO® Chief Executive Officer.
Registration Fee Information
Name
Availability
Fee
Non-Member (Regulatory)
Representative of a jurisdiction that qualifies for Regulatory membership but is not current with its member dues.
$640.00
Non-Member

$575.00
Regulatory Member
Representative of a member jurisdiction that is current with its member dues.
$515.00
Affiliate/Associate Member
Affiliate or Associate Member (does not qualify for regulatory membership) and is current with member dues.
$465.00
Emeritus Member

$440.00
Guest
A non-member spouse/guest accompanying a full conference attendee - includes all events, receptions and meals provided by the conference.
$195.00
Guest - Combined Welcome/Networking Receptions

$145.00
Guest - Welcome Reception Only
Guests who only wish to attend the Welcome Reception.
$85.00
Guest - Networking Reception Only

$60.00
Use this tab to download the latest event roster, which includes everyone registered for the event as of this moment.
You must be logged in to access the event rosters. You will be prompted to login when you click the links below.
Please note that registration fees for guests are set to ensure ARELLO's costs are covered including the hotel/venue service charges and state and local taxes. Every effort is made to make these reasonable and affordable for our members.
Sponsorship of activities by vendors or regulated entities at this conference or meeting shall not be construed as an endorsement by ARELLO of the sponsoring entity or of the products, services, policies or positions. The sponsorship is not intended by the vendor or regulated entity, nor should it be construed by anyone, to influence the decisions of ARELLO and its representatives.