2019 Mid-Year Meeting-Leadership: Sharing Solutions
Salt Lake City, UT/Hilton Salt Lake City Center
April 10–13, 2019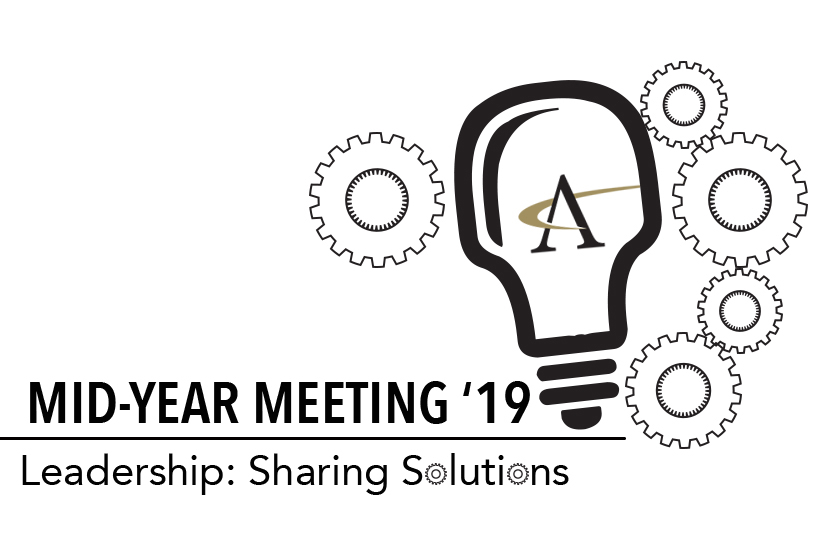 Join fellow real estate regulators at the 2019 Mid-Year Meeting in Salt Lake City, UT, to gather, discuss trends, and develop solutions that will ensure greater consumer protection for the licensees and citizens of your jurisdiction.
2019 Mid-Year Keynote- Friday, April 12 "The Rapidly Changing Landscape in Real Estate" presented by Kenny Parcell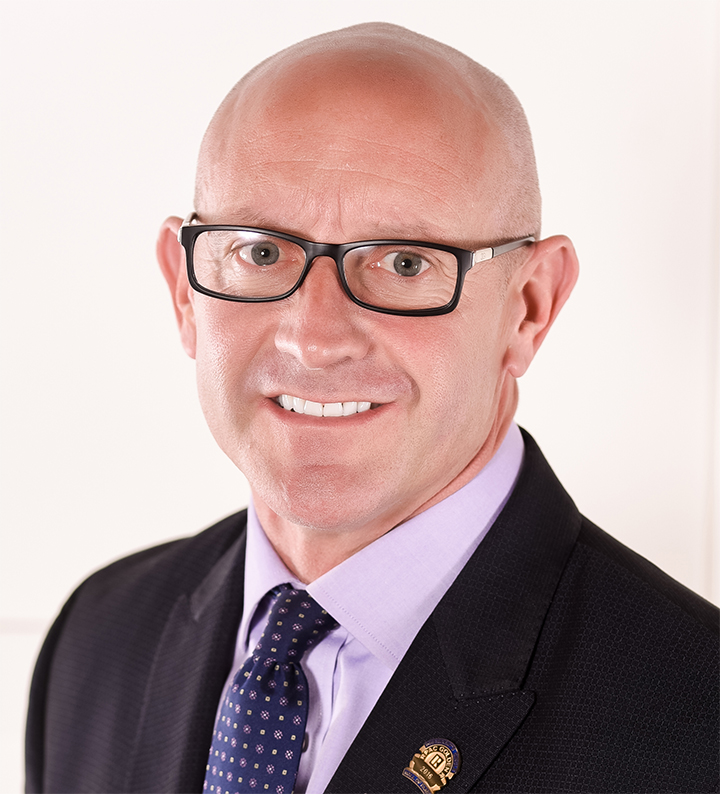 Not only are regulatory laws changing, but the industry itself is in a state of flux from being disrupted from within. Adaptation will be key in everything from licensing, to selling, to working together. Mr. Parcell will address hot-button issues of the moment.
Mr. Kenny Parcell is a REALTOR® from Spanish Fork, Utah, and is the National Association of REALTORS® 2018 Vice President of Government Affairs.
Download the ARELLO event app! All MY '19 attendees NEED the Mobile App!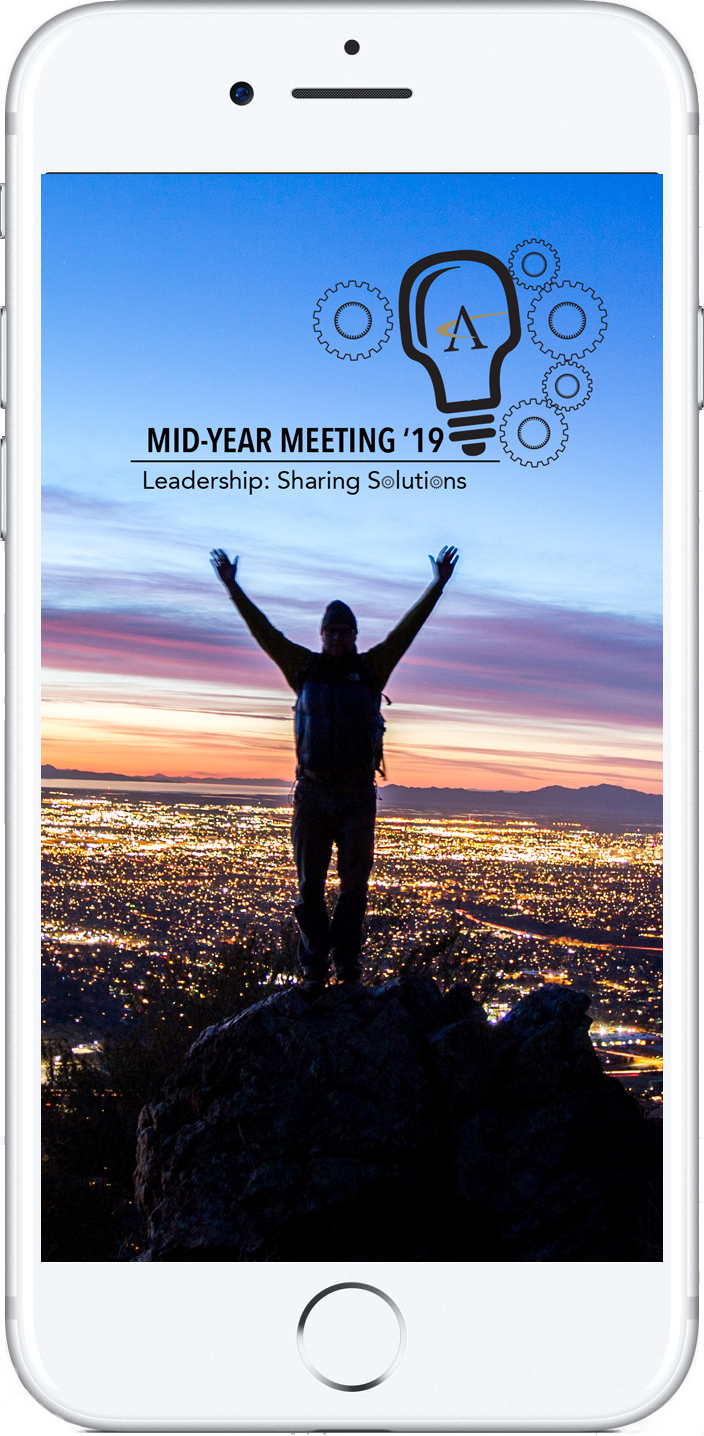 Mid-Year '19 will be our first paperless program event! We have phased out printed programs for our all our events making the ARELLO Mobile Event App a necessity for meeting/conference attendees.
But don't worry, your ARELLO event app will provide you with a ton of helpful, just-in-time information at your fingertips. The app contains schedules, hotel floor plans, speaker and session info. It allows you to take notes, connect with other attendees and so much more.
Schedule
Wednesday April 10
9:00 am–3:30 pm
Extra: District 4 Meeting ($0.00)
This meeting will be conducted by MiChell Bird, District 4 Vice President and is intended for Regulatory Members in District 4 only. District 4: Alaska, Arizona, British Columbia, California, Hawaii, Idaho, Montana, Nevada, New Mexico, Oregon, Utah, Washington, Wyoming.
12:00–3:00 pm
Extra: District 2/3 Meeting ($0.00)
This meeting is intended for Regulatory Members in Districts 2 and 3 only and will be conducted by District 2 Vice President, Douglas Oldmixon, and District 3 Vice President, Erik Wisner. District 2: Alabama, Arkansas, Florida, Georgia, Jamaica, Kentucky, Louisiana, Mississippi, North Carolina, Nova Scotia, South Carolina, Tennessee, Texas, Virgin Islands, Virginia, West Virginia. District 3: Colorado, Illinois, Indiana, Iowa, Kansas, Minnesota, Missouri, Nebraska, North Dakota, Oklahoma, Saskatchewan, South Dakota
4:00–5:30 pm
New Member Orientation / First-Time Attendees Reception
2017 ARELLO President Miriam Baer, ARELLO staff and members of the Membership Committee will welcome new members/first time attendees to the meeting and participate in a presentation.
5:30–7:30 pm
Welcome Reception- Sponsored by Rice Insurance Services Company, LLC
Thursday April 11
7:00–8:10 am
Welcome Breakfast
8:10–8:25 am
Opening Session


Darren Whorton, ARELLO Director of IT, will highlight features available on the meeting app

8:30–10:00 am
Law & Regulation Committee Meeting
Nick D'Ambrosia, Chair and Charlie Moody, Vice Chair
8:30–10:00 am
Exam Accreditation Committee Meeting (Open Session)
Ryan Adair, Chair and Corean Hamlin, Vice Chair
10:00–10:15 am
BREAK
10:15–11:45 am
Fair Housing Committee Meeting
Ulani Prater Gulstone, Chair and Mike Gamblin, Vice Chair
10:15–11:45 am
Affiliate Roundtable-Loretta DeHay, Facilitator
10:15–11:45 am
License Portability Taskforce
Meeting of the License Portablity Taskforce. Chair Miriam Baer.
10:15–11:45 am
Exam Accreditation Committee Meeting (Closed Session)
11:45 am–1:15 pm
Executive Committee Working Lunch
Executive and Search Committee Members will meet. Closed Meeting.
11:45 am–1:15 pm
Lunch on Your Own
1:15–2:45 pm
Investigator/Auditor Resource Committee Meeting
Selina Barnes and Wendy Alkire, Co-Chairs; Heather Garrett, Vice Chair
1:15–2:45 pm
Education Certification Committee Meeting
Corean Hamlin, Chair; Ryan Adair and Amber Nutt, Co-Vice Chairs
1:15–2:45 pm
Commissioner Resource Committee Meeting
Carole Harrison, Chair; Scott Breidenbach, Vice Chair
2:45–3:00 pm
BREAK
3:00–4:30 pm
Commissioner Roundtable - Scott Arakaki, Facilitator
3:00–4:30 pm
Education Issues Roundtable - Demetria Scott, Facilitator
3:00–4:30 pm
Administrator Roundtable-Nicole Novotny-Smith, Facilitator
3:00–4:30 pm
Nominating Committee Meeting
Roger Cymbaluk, Chair and Teresa Hoffman, Vice Chair
Friday April 12
6:30–7:30 am
Walk
Sherry Kueffler will lead this event. Please meet Sherry and your colleagues in the lobby for a leisurely walk.
8:30–10:00 am
Timeshare Committee Meeting
Gary Isom, Chair and Jerry McDonald, Vice Chair
8:30–10:00 am
Membership Committee Meeting
Douglas Oldmixon, Chair and Craig Coffee, Vice Chair
8:30–10:00 am
Program Committee Meeting
Marcia Franks, Sherry Kueffler, and Greg Lemon Co-Chairs; Heather Casdorph and Monica Rut, Co-Vice Chairs
10:00–10:15 am
BREAK
10:15 am–12:00 pm
Keynote: "The Rapidly Changing Landscape in Real Estate" by Kenny Parcell
12:00–1:30 pm
Lunch on Your Own
12:00–1:30 pm
ARELLO Foundation Working Lunch (Closed)
1:30–3:00 pm
IT/Communications Committee Meeting
Michael Johnston, Chair and Erik Wisner, Vice Chair
1:30–3:00 pm
Governance Review Committee Meeting
Erik Wisner, Chair and Miriam Baer, Vice Chair
1:30–3:00 pm
Finance Committee Meeting
Dean Owens, Treasurer/Chair and Brad Chisholm, Vice Chair
3:00–3:15 pm
BREAK
3:15–4:45 pm
Real Estate Best Practices Roundtable - Jeff Evans and Anne Petit, Facilitators
5:30–7:30 pm
Networking Reception - Sponsored by Utah Division of Real Estate
Saturday April 13
8:00–8:45 am
Breakfast
9:00 am–12:00 pm
ARELLO Board of Directors Meeting
Anne Petit, 2019 President
Hotel Information
Hilton Salt Lake City Center
255 South West Temple
Salt Lake City, UT, 84101
Phone: 801-328-2000
Fax: 801-238-4888
Hilton Salt Lake City Center Website
ARELLO Special room rate $199+tax
RESERVATIONS: 800-445-8667 or online
Special ARELLO Room Rate ends March 15, 2019
Check-in: 3:00 pm Check-out: 12:00 pm
Please be aware that a valid credit card and one night's room deposit are required at the time of your reservation. The deposit will be applied to your bill and will be refunded if you cancel your reservation 3 days or more before your arrival.
Message to Attendees: ARELLO has made every effort to secure the best possible group nightly room rate for you at this event. That rate results from a negotiated overall package of event needs such as sleeping rooms, meeting room space and other requirements. ARELLO will incur costs if the association falls short of its minimum room block guarantee. Please help ARELLO keep the costs of this event as low as possible by booking your housing needs at the designated host hotel and in the ARELLO® room block. Reserving outside the contracted room block may jeopardize ARELLO's ability to meet its contracted obligations and to keep registration fees to a minimum. ARELLO appreciates your support and understanding of this important issue. If you experience difficulties when contacting the hotel, please advise ARELLO HQ. Thank you.
Transportation Information
Distance from Salt Lake City International Airport to Hilton Salt Lake City Center - 7 mi.
Airport transportation
Limousine- $65.00
Contact bell stand
Super Shuttle- $16.00
Round-Trip
Taxi- $20.00
one way
Ride Share Companies - Uber and Lyft also offer services to/from the airport. Rates vary depending on the time of day.
Nearest train station: Amtrak
Parking: Self parking: $18.00, Garage Parking-6ft5
Valet parking: $24.00
Attire Information
Business Casual for entire meeting
Cancellation Policy
CANCELLATIONS: All requests for refunds must be in writing and sent to ARELLO's Chief Executive Officer. Cancellations received on or before March 10, 2019 will receive a full refund. There is a $100.00 cancellation fee for cancellations received between March 11 and March 29, 2019. No refunds will be made for cancellations on or after March 30, 2019.
Refunds for cancellations due to an illness, injury, death or emergency will be considered on a case by case basis by the ARELLO Chief Executive Officer.
Registration Fee Information
Name
Availability
Fee
Non-Member (Regulatory)
Representative of a jurisdiction that qualifies for Regulatory membership but is not current with its member dues.
$640.00
Non-Member

$575.00
Regulatory Member
Representative of a member jurisdiction that is current with its member dues.
$515.00
Affiliate/Associate Member
Affiliate or Associate Member (does not qualify for regulatory membership) and is current with member dues.
$465.00
Emeritus Member

$440.00
Guest
A non-member spouse/guest accompanying a full conference attendee - includes all events, receptions and meals provided by the conference.
$195.00
Guest - Combined Welcome/Networking Receptions

$145.00
Guest - Welcome Reception Only
Guests who only wish to attend the Welcome Reception.
$85.00
Guest - Networking Reception Only

$60.00
Use this tab to download the latest event roster, which includes everyone registered for the event as of this moment.
You must be logged in to access the event rosters. You will be prompted to login when you click the links below.
Please note that registration fees for guests are set to ensure ARELLO's costs are covered including the hotel/venue service charges and state and local taxes. Every effort is made to make these reasonable and affordable for our members.
Sponsorship of activities by vendors or regulated entities at this conference or meeting shall not be construed as an endorsement by ARELLO of the sponsoring entity or of the products, services, policies or positions. The sponsorship is not intended by the vendor or regulated entity, nor should it be construed by anyone, to influence the decisions of ARELLO and its representatives.