2017 Mid-Year Meeting/Louisville
Louisville, KY
April 26–29, 2017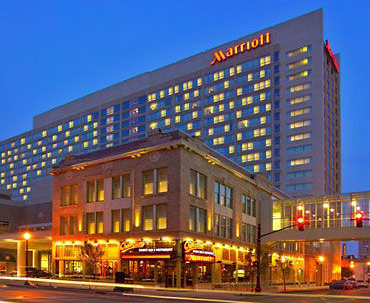 Sponsors
Platinum Sponsor

Gold Sponsor

Silver Sponsor

Bronze Sponsor

Welcome Reception

Networking Reception
Hotel Information
Louisville Marriott Downtown
280 West Jefferson
Louisville, KY 40202
502-627-5045
http://www.marriott.com/hotels/travel/sdflm-louisville-marriott-downtown/
Reservations: 1-800-533-0127
Online Reservations using the ARELLO Room rate
Cut off date for Room rate: April 3, 2017
ARELLO® Room Rate: $169 Single/Double
Add 16.07% Room Tax
Message to Attendees: ARELLO® has made every effort to secure the best possible group nightly room rate for you at this event. That rate results from a negotiated overall package of event needs such as sleeping rooms, meeting room space and other requirements. ARELLO® will incur costs if the association falls short of its minimum room block guarantee. Please help ARELLO® keep the costs of this event as low as possible by booking your housing needs at the designated host hotel and in the ARELLO® room block. Reserving outside the contracted room block may jeopardize ARELLO's ability to meet its contracted obligations and to keep registration fees to a minimum. ARELLO® appreciates your support and understanding of this important issue. If you experience difficulties when contacting the hotel, please advise ARELLO® HQ. Thank you.
The Marriott hotel is sold out just for the night of Tuesday, April 25th. A room block has been secured at the ALOFT Louisville Downtown for ARELLO® members for this one night at $185 for the night. To reserve call the ALOFT hotel at 502.583.1888 and say that you are booking with "ARELLO" room block for the night of Tuesday, April 25th.
Area Information
Click here to find "Things to Do" in Downtown Louisville!
Attire Information
Business Casual
Additional Information
Cancellation Policy
CANCELLATIONS: All requests for refunds must be in writing. Cancellations received by midnight March 28, 2017 will receive a full refund. There is a $50.00 cancellation fee for cancellations received after March 28, 2017 and before April 14, 2017. Cancellations received after April 14, 2017 and before April 19, 2017 will receive a refund of 50% of registration fee. There is no refund for cancellations received after April 19, 2017. Refunds for cancellations due to an illness, injury, death or emergency will be considered on a case by case basis by the ARELLO® Chief Executive Officer.
Registration Information
Attending the entire event.
Type
Fee
Regulatory Member
Representative of a member jurisdiction that is current with its member dues.
$500.00
Affiliate/Associate Member
Affiliate or Associate Member (does not qualify for regulatory membership) and is current with member dues.
$450.00
Non-Member
$560.00
Non-Member (Regulatory)
Representative of a jurisdiction that qualifies for Regulatory membership but is not current with its member dues.
$625.00
Emeritus Member
$435.00
Guest
A non-member spouse/guest accompanying a full conference attendee - includes all events, receptions and meals provided by the conference.
$195.00
Guest - Welcome Reception Only
Guests who only wish to attend the Welcome Reception.
$85.00
Guest - Networking Reception Only
$60.00
Guest - Combined Welcome/Networking Receptions
$145.00
Use this tab to download the latest event roster, which includes everyone registered for the event as of this moment.
You must be logged in to access the event rosters. You will be prompted to login when you click the links below.
Please note that registration fees for guests are set to ensure ARELLO's costs are covered including the hotel/venue service charges and state and local taxes. Every effort is made to make these reasonable and affordable for our members.
Sponsorship of activities by vendors or regulated entities at this conference or meeting shall not be construed as an endorsement by ARELLO of the sponsoring entity or of the products, services, policies or positions. The sponsorship is not intended by the vendor or regulated entity, nor should it be construed by anyone, to influence the decisions of ARELLO and its representatives.